About the Project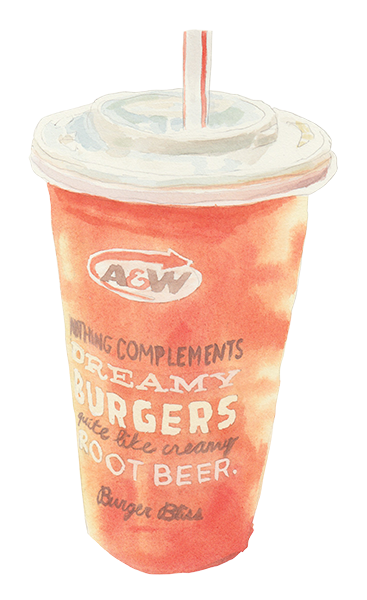 This series of poems began during a writing retreat in Flatrock, NL, where I walked to a popular swimming hole each morning. Disturbed by the amount of garbage there, I started carrying home a bag full of litter after each swim. I wrote poems about my experience at the swimming hole using text transcribed from this garbage, allowing my writing to be shaped by the limited vocabulary of beer cans, fast food, candy wrappers, and other trash. Every word in this series of poems, with the exception of the titles, was found on a piece of garbage. Words were repeated or combined, but not shortened.
The poems focus on the experience of swimming outdoors, which is one of the things that has brought me joy throughout years of chronic illness. Many people I've been swimming with have talked about how swimming is one of the few times they feel at ease in their bodies. Especially when those bodies are sick or queer or in some way non-conforming. There's something about wild swimming, a kind of exuberant embodiment, that can be transformative. This has been what I refer to as "survival joy"—an experience of body-based joy that I seek out when I am struggling to feel pleasure or happiness in everyday life. Near St. John's, this kind of swimming is spectacular and limited to a few months of the year. I write these poems for the same reasons I pick berries and make jam—this is my survival joy and I'm going to need it to get through the winter.
When I thought about illustrations for this project, I immediately thought of April White and their watercolour paintings of everyday objects. I had a brochure from their A Day In The Life Of exhibition at The Rooms on my fridge—a watercolour painting of a milk carton and other food on a kitchen table. I'm not sure if I came up with the idea of illustrating the poems and then thought of April's work, or whether looking at April's work every day seeded the idea for illustrating the series. Once I'd imagined beer cans and chip bags painted by April, I couldn't imagine it any other way.
Matthew Hollett (writer, artist, web designer) first imagined an interactive website and has done the web design for this project. He brought to life my request for a tool that would allow other people to try their hand at making poems out of garbage, or to use any found text as a source for poetry.
Poems from the Garbage Poems series were shortlisted for the CBC Poetry Prize, won an NL Arts and Letters Award, were chosen as Editor's Choice for the Arc Poem of the Year, appear in Fine Form: The Canadian Book of Form Poetry, and have been published in various other journals.
Additional poems from the project:
Read more about the project: